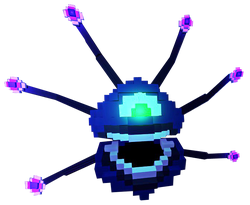 A
mini-boss
found on floors 1-7.
Description
Edit
Big B is a beholder which shoots several different projectiles from the ends of his tentacles, as well as his from his mouth.
Don't stop moving. Circle around it and keep constantly shooting. If there are any other enemies in the room, kill them first.
Big B is based off of a Beholder, a creature from Dungeons and Dragons.