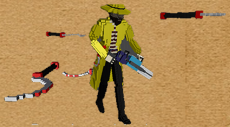 A special boss found in "Do Not Enter" rooms.
Description
Edit
Gorton is one of three special bosses, he attacks by using his Sickle or his Blowfish Gun at a very high firerate while four Sickles hovers around him at a randomized distance. Having a low player speed can be a problem as his four Sickles will deal a lot of damage rapidly.
Gorton is also one of the playable characters (see here).
Being one of the three special bosses Gorton is one of the more difficult bosses that can pump out a lot of rapid damage. Having a high player speed will make this boss encounter less difficult, having either Angel Wings or Iris' Wings (or both) will make the fight even less though.
Gorton is the father of Dahlia.